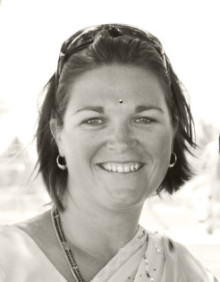 Life is a happy crap shoot.
I am an independent, six-foot tall, Southern California girl. At twenty-one years old, on my way to graduate school, I thought that sentence explained an awful lot. A youth of the 80's and 90's, I was raised with my brother by our mom in a predominately white, blue collar beach town called Ventura. Aside from a high school foreign exchange trip to Germany, my tenth grade world history class, the notorious OJ Simpson trial and Rodney King riots; race relations, cultural identity, extended family, and the rest of the world were not something I spent a significant amount of time thinking about. I didn't have reason to. My world was small and familiar. My exposure was textbook.
After getting an AA at Ventura's local Community College, I moved to Baltimore completing a bachelor's degree, then on to Massachusetts driven to complete a master's immediately. In my typical organized, hurry up and wait fashion, I packed in the classes and worked straight through. The ability to grow up, support myself and accomplish as much as possible – a necessary goal.
It was at University of Massachusetts that I met my partner, a culture abiding, five-foot-eight Indian man from Hyderabad. We started out as friends, dated against his better judgment and began our marriage as working professionals. A few years later operation-family-planning began and I became a housewife. With those experiences, our lives evolved.
So how did I get here? How did I find myself in a cultural wind tunnel, spinning around wholeheartedly naïve of the complicated world around me, piecing it all together as I go for the last fifteen years? How did I end up meeting, falling in love, and marrying an Indian immigrant? How did I end up having children, all from drastically different circumstances, all racially diverse from one another?
To understand the cultural and emotional complexities of making our family, I guess I need to start where we met and explore my journey in discovering who I have become. An enthusiastic attitude for pretty much everything helps in integrating our two cultures, and those of our eventual children. We've created a comfortable lifestyle for ourselves living in the United States and although I eagerly try to live up to the expectations of my new family, I am completely dependent on my translator, my partner. He means well, but sometimes he misses an important fact or two.
On occasion, I smack my head along the way, but mostly I grow, learn and do it better the next time. The last fifteen years have been filled with joy, sorrow, life and death, cultural growth and absurdity. They have made me reach out for therapy and self-reflection, but most of all they have made me love life even more.
The term it's cultural, has real meaning. Aside from personality differences, a lot of the time it really is just cultural. In my twenties, it was all personal. It's easy to have twenty-twenty vision after fifteen years of reflection on the past. The realization that cultural interactions are not always personal takes time and experience; for both sides of the cross-cultural-coin. In the beginning, I didn't understand that traveling somewhere, eating the local food, and living-like-a-native, is an experience, not an identity. While it affords incredible insight and unmistakable appreciation for different cultures, it does not make me an expert and will never turn me into an Indian.
What I thought defined me at twenty-one, is not who I am today. I am still that independent six-foot tall SoCal girl, but also the daughter-in-law of a traditional Hindu family and the wife of a man who has no prior relationship experience. Occasionally, I'm also draped in a sari, adorned with a bindi and doused in gold.
I began to journal on my first trip to India and soon realized what a wild ride this would become. I tell this story not to upset traditions, beliefs, or lifestyle choices, but because I've enjoyed the ride, and the lessons I've learned along the way.
It's just a story…my story.